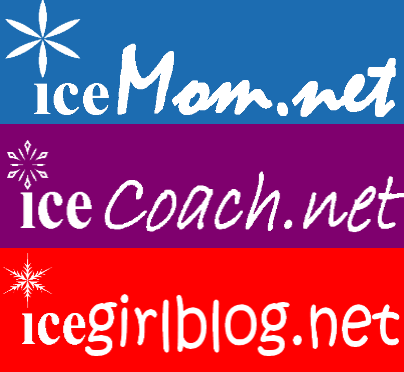 Three new sites.
On April 3, if the techno gods favor me, I'll be launching my new site at icemom.net. Also launching on April 3 are icecoach.net and icegirlblog.net. These two blogs will cover figure skating from the coach and student perspectives. I receive a lot of great questions in my e-mail box that are better suited to a coach or skater to answer, so now everyone will be able to share rinkformation at all levels of involvement.
All three of us will post on Mondays starting in April about the same subject from different angles. One of these joint posts we have planned is about the process of running a competition. Ice Coach is going to cover securing judges and setting it up, I'm going to write about strong-arming volunteers, and Ice Girl will talk about being a runner and how to have fun in a high-pressure situation.
We'll also have a contest to kick off the launch with fabulous prizes. Not millions – we're in figure skating. But you'll like the contest – it'll be funny, I promise.

Ask the Expert.
On Wednesdays, I'm starting a new feature called, Ask the Expert. Each Wednesday, I'll try to invite someone who knows way more than I do to write something and answer your questions in the comments.
Wednesday, March 24, Annette Thomas, a classically trained ballet instructor, will post about ballet. She wrote the book
Fundamentals of Alignment & Classical Movement for Figure Skaters
and she's very knowledgeable. My questions for Annette were along the lines of: is ballet worth it? So, start thinking about what questions you'd have for a classical ballet teacher who knows a lot about figure skating, too. You can also send in your questions in advance to me (icemom.diane@gmail.com) and I'll store them up for Annette to answer. Of course, you can also add them to the comments on March 24 for Annette to answer that day.
I'm lining up more guests: a former show skater, coach Xan of
Xanboni!
and Ice Coach, soon to be of
icecoach.net
, will answer questions about USFSA/ISI, and
Allison Scott
, Jeremy Abbott's mom, will talk about interacting with judges.
As always, advertisements are independent of editorial content. These aren't ads, anyway. They're an opportunity to ask questions you've always wanted to ask of people who are really knowledgeable. Should be fun!

If you have a suggestion for an expert or you are an expert, e-mail me at icemom.diane@gmail.com. I'd love for you to let us know more about figure skating.
Also, if you have a suggestion for post ideas that you'd like the three of us (Ice Mom, Coach, and Girl) to write about, that would be fabulous! If you have other ideas for us, too, hey: we'll take 'em! E-mail me at icemom.diane@gmail.com.