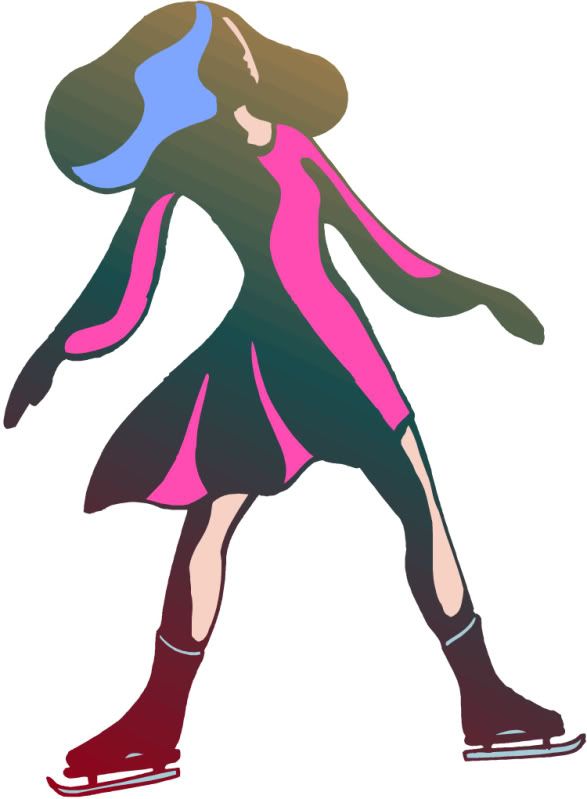 I was reworking Ice Girl's sock bun at last Saturday's Basic Skills competition and teaching another mom the basics of the process when a coach I know overheard me.
Coach was judging at the little competition and my hair demonstration seemed to put a quarter in her. She started to talk in a loud voice and wave her arms a lot.
"You should teach a class," she said.
I had no idea what she was talking about.
"We need to have a seminar for skating moms so that they know how to dress their kids for a skating competition," Coach said.
Well, she said a lot more and made some comments about coaches who offer no instruction about what the skater should wear or how the skater's hair should look.
"Neat," she said. "I just want neat. Neat hair, neat dress, no laces dangling from the skates. I don't want to be distracted when I judge."
This makes sense to me, and I'm sure it makes sense to most readers: skaters should dress in a manner that calls attention to the skating, not to tangled hair.
Skating attire/grooming requirements:
Courtesy mostly of Coach (M.R.)
Hair should be neat. A bun is best, but a close second is the ponytail. Don't leave hair loose and unmanaged.

Figure skating dresses only. Ice dance dresses are not figure skating dresses, Coach said. The extra fabric might look terrific in a spin, but it hides the skater's leg positions and ticks off Coach when she judges. I'm sure it ticks off other judges, too.

Laces should be tucked in. Boots should be tight, not floppy. Laces shouldn't drag on the ice. Tuck them into the tights.

Tights in good repair. Over-the-boot, footless, or footed: to a judge, it just doesn't matter as long as the tights don't have holes.

Keep the undies hidden. "I don't want Dora the Explorer underpants peeking out at me from under a skater's dress," Coach said. I don't blame her.

Crystals. I couldn't help but interrupt Coach's rant and ask: do crystals matter? She looked at me like maybe I wasn't the person to teach her fictional new skating mom class. "Crystals?" she said in a shrill voice. "I don't care about crystals."

No gloves, no jackets. They're fine for warm-up, but leave them off the rink when you perform.

Conservative makeup. "It's not a beauty pageant," Coach said. "Why are they sending these little girls out with so much eye makeup?" Well, she said a few other things, too, but the gist of this one was: keep makeup conservative and age-appropriate.


Feel free to add your attire/grooming requirements below. If you think Coach and I are off-base, you can write that, too. I might work up the courage to let her know…someday.