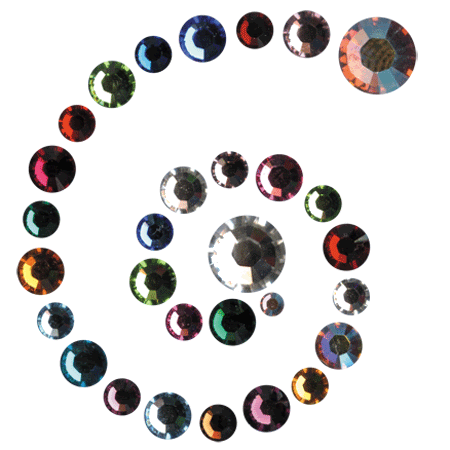 Anyone who reads my blog knows that I'm obsessed with the cost of everything in the skating world. The prices just floor me.
I sew Ice Girl's dresses and I put the beads on myself. I know that I'm saving money on the dress, but should I be cutting corners on the crystals?
Lots of folks swear by Swarovski and claim that their crystals are more sparkly than anything else. I've sewn a bunch of dresses and used the cheaper, machine-cut Preciosa crystals on each one.
Here's the thing: no one – not one person – has said to me, "What a beautiful dress, but those crystals just aren't very sparkly."
In fact, the opposite is true. The last dress I made and beaded had a gross of 42ss and a half gross of 40ss cystals on it. I think the bling blinded folks – including me.
Preciosa crystals are real lead crystals, just like Swarovski crystals are lead crystal. The difference is that the Czech-made Preciosa has fewer facets (8) than Swarovski (12). Some folks believe that the Swarovski has more sparkle, but from a distance, like at an ice rink with no spotlight, the crystals look pretty darn similar.
You're not saving
huge
amounts of money buying Preciosa, though, so don't get too excited. Swarovski crystals cost about 20 percent more than Preciosas. So, if I'm buying a gross of 12ss flatback crystals, Preciosa will set me back $4.85 for a gross of crystal; $7.50 for a gross of colored. Swarovski will cost $5.90 for a gross of crystal; $6.75 for a gross of colored.
I think I saved about $10 in the last order I placed for Preciosa crystals, but I spent $7 for shipping. Buying Preciosa instead of the Swarovski is like getting the shipping for free or paying for an hour of ice time.
Of course, Ice Coach would point out to me that I'm not saving money when I make a dress every other month instead of making one per season.
But, well, I like the sparklies. And I can't resist the pretty fabric.
Resources
– all of these are U.S. retailers
http://www.espallstarrhinestones.com/
Good prices, standard shipping rates. Terrible online color charts.
http://www.dreamtimecreations.com/
Competitive prices (some are a few cents higher, some a few cents lower), standard shipping rates. Great online color and size charts. Lots of Preciosa colors to choose from. Good shipping times.
http://www.rhinestoneguy.com/
Good prices on crystal, great prices on colored stones. Weird site layout. Shipping unknown. Good online color chart, but blurry. Not as many Preciosa colors to choose from.