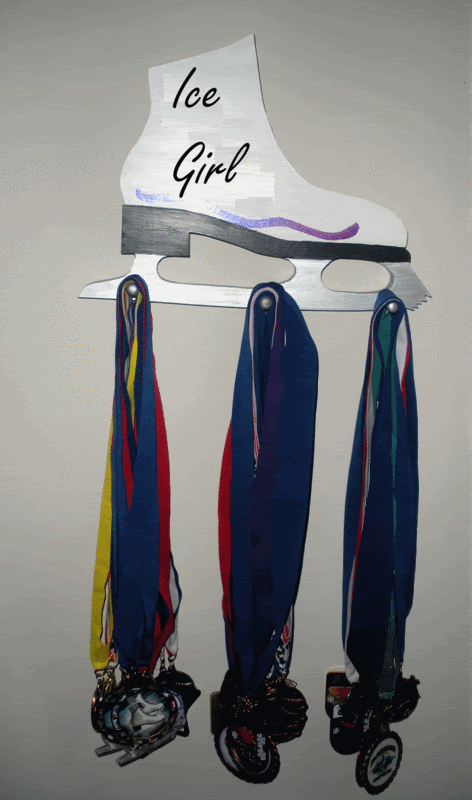 Reader Anonymous sent me a comment:
[...] I was wondering how you display Ice Girl's medals. My daughter has been skating for a few years now but I have yet to think of a good way to display her medals. What do you think? Thanks!
As you can see from the photo, this is how we display Ice Girl's medals.
I bought this wooden skate at a competition for an unbelievable price: $12. I wish I had bought two. The gal who made it had her husband cut the skate out of wood with his jigsaw. She sanded it, painted it, added wooden pegs to the front, and hooks on the back for wall hanging.
If you don't have a husband with a jigsaw, you can still accomplish this same thing pretty inexpensively. Craft stores carry ready-made boards with pegs on them. Paint, add hanging hardware, and display.
The whole project, including paint and hardware, should set you back maybe $10 - $12.
Update:
A fabulous DIY renovation project from Advisory Board member, figure skating parent to an Olympian, and Life on the Edge blogger Allison Scott:
One of the things that we used to do (though now it is totally impractical after 20+ years of medals) is to frame the top ones with the competition programs. Please note: If your skater stays in the sport for a long time and succeeds, you may be able to take each of those frames, cement them together and build an addition to your house – a little DIY recycling project that could help your bank account!
What do you do with your skater's medals? How do you display the trophies? Please share your ideas in the comments!
As always, if you have a question for Ice Mom or the Advisory Board, please send it to me! If you have an idea for a post or would like to write a guest post, please let me know, too! E-mail me at icemom.diane@gmail.com.