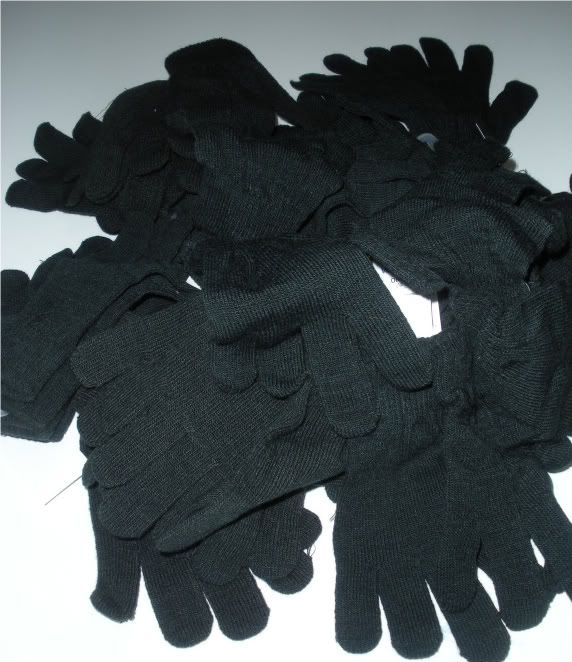 Happy spring! It's time to walk Ice Dog outside again without worrying about slipping on the ice. It's time to do yard work, Ice Dad. And it's time to shop for magic gloves. At our local discount retail chain, those cheap, one-size-fits-all stretchy gloves – magic gloves – are 25 cents a pair. I bought 20 pair for $5.
If you're new to figure skating, you're thinking I've once again lost my mind. After all, that's one big pile of gloves, Ice Mom. Well, kids lose gloves all the time. The gloves get holes. Figure skaters lend them to other figure skaters and they leave forever.
If you've been through a summer at the rink, you know that the only places that sell gloves in July are figure skating stores, and they'll sell 'em to you for $4 – 8 a pair. Let's do the math. 20 pair at $4 each is $80 worth of gloves. For my money, I'll take the ones on clearance, thanks.
When you find the gloves on sale, buy black ones. Resist the temptation to buy pink, purple, or patterned gloves. Yes, they're cute, but when your skater loses one pink glove, she won't have another one to match. Buy all black gloves and then losing one isn't a big deal. Just match it up with some other black glove.
Black gloves are good, too, because they don't show dirt like white gloves and your figure skater can wear them on warm-up ice at competitions.
So, happy spring, everyone! Don't forget that this is your last time to buy gloves at a reasonable price for the next six months. Well, that is if you don't live near me. I'm pretty sure I cleaned out the shops around here.
Update
:
From reader Jillybean, who offers a caution: You really shouldn't be borrowing other skaters' gloves because they might be wiping their noses on them.
Do you have a question for the Ice Moms? Do you have a great idea for a post you'd like to read? Are you an expert and want to write something for everyone's benefit? Wonderful! Please contact me at icemom.diane@gmail.com.