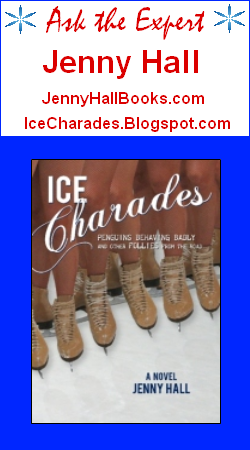 This

guest post

comes from Jenny Hall, former show skater and author of

Ice Charades: Penguins Behaving Badly and Other Follies From the Road

(use discount code

.

You can also visit her popular blog, Ice Charades. If you'd like to read reviews of her book you can visit Ice Mom's review of Ice Charades or About.com's Jo Ann Schneider Farris and her review.

So your son or daughter wants to join an ice show. They are turning 18 pretty soon and you're wondering if you're crazy to let them do it.

I don't think so.

Perhaps you're thinking that your kid needs to go to college first because they will never get ahead in life without a college degree. That's probably true. But the cool thing is you don't have to pick one at the expense of the other – your son or daughter can do both. Although usually not at the same time.

The most important concept I thought of when writing this post for Ice Mom is that parents may feel by joining an ice show their son or daughter will be exposed to all things evil: weigh-ins, promiscuity, drinking and/or drugs, lack of safety, backstage cattiness, insufficient funds, injuries, or insecurity in themselves. Yes, they'll probably face all of that and worse.

But it won't be because they joined an ice show as much as a result of turning 18. It's part of what happens when they leave home. They can face the same challenges in college, the office, or if they become a coach at a rink. Granted, dealing with all of those evils at one time in a far-flung location can be overwhelming, but in my case, it forced me to mature on my own and later I was glad for the challenge.

So, let them give it a try, tell them they can always return if they don't like it, and tell yourself that you may get to visit them in an exciting, exotic spot of the world. One mother I spoke with spent two weeks on a beautiful Scandinavian cruise for

free

.

Another plus is your kid will be earning money for skating instead of you paying for it. Not bad.

So, let's walk through some of the basics for your son or daughter:
For their best success in ice shows, they may want to join right out of high school at their physical peak. But they don't have to. I had two years of college before I joined a show at 20. While it was true, I lost the conditioning of my senior freestyle program in my legs and in my lungs that I had at 18, I was still okay for the show. I rose to the occasion, skated on a lot of practice ice and improved my skating in other ways. And I was more mature than I would have been right out of high school. I continued to go in and out of ice shows and college for the next thirteen years and stayed in good shape until I was 35. I also think I was a better performer because I mixed office work with the skating world and tried to enjoy the best of what each environment had to offer. So it is not too late to start somewhere in their 20s.
Do your homework – talk to show skaters if you can. No two ice shows are the same but certain shows will have certain set environments. Let's just say that Holiday On Ice gives the skaters more independence – which also means less supervision. Disney On Ice has more hand-holding. Touring shows will have more variety than a park show, but also more uncertainty. I was drawn to traveling, so starting with a big touring show was the right choice for me, but someone who is more interested in their skating should look at the show's caliber of skating first. That may be the Royal Caribbean cruise ship show or Disney. If a skater plans on making this their career for a while, a long-term show is best for steady income. Stick with a touring show or a cruise ship show that's going to be around for a while. If it is more about having fun, try a summer amusement park show. They are several of them in countries besides the U.S.
The nice thing is ice shows are still a small world and once a skater finds work in one, they will find it pretty easy to get the scoop on others. The Professional Figure Skaters Cooperative (PFSC) has made it even easier to get all the casting notices in one place and they even have a seminar in beautiful Sun Valley, Idaho open to younger skaters to hear first-hand what ice shows can be like.
Don't play down the physical attributes of skating in ice shows. I took it for granted until I was retired how beneficial it was to have a job that required movement rather than sitting at a desk or standing by the boards. If a skater can stay away from injuries and eating disorders and stay healthy, their skating will pay dividends long after they put away the false eyelashes. There will be plenty of time for more sedentary jobs, but move when and while you can. I firmly believe having skated in my twenties and thirties will keep me healthier when I face my fifties.
While college is largely about planning (as in planning to graduate and cash in on that expensive degree), ice shows are more about living in the moment. When you are performing, that is the only thing going at that very moment. You're not stopping during the pinwheel to check your Blackberry. You don't leave during intermission to pick up your sick child at daycare (well, if you did, you probably wouldn't be allowed back). From the time you walk into the dressing room at half-hour to the time the curtain goes down in Finale, you have one purpose – to skate the show. Maybe you have the goal to skate it well. (But maybe it's a Saturday matinee and you're only putting in a C performance – ask someone from Ice Capades). The flipside is when the show's done, you're done for the day. It is not to say skaters don't have goals in ice shows, but they can have the freedom not to.
Realize that ice shows won't be in their life forever. The reality is few in the chorus in Capades, Holiday or Disney went on to have careers in ice shows. There are jobs in production, choreography, costumes or sets to move into once your legs stop moving, but they are few and far between. Luckily, I think most chorus skaters want to move on from ice shows and into permanent housing, relationships, and jobs anyway. Hopefully the skater will enjoy the traveling, the costumes and the performing while they can.
So if you're still nervous about your son or daughter running away to join
the circus
an ice show or have any questions, please send me a comment.