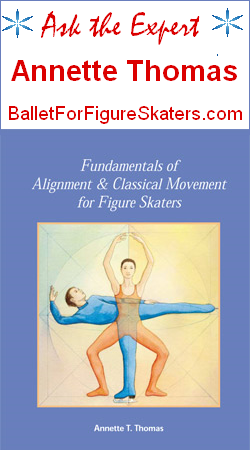 This guest post comes from Annette Thomas, classically trained dance teacher and choreographer. Thomas is also author of the book Fundamentals of Alignment & Classical Movement for Figure Skaters.
You can also visit her Web site at BalletForFigureSkaters.com. Readers who would like to purchase her beautiful, thorough, well illustrated manual can buy it at MySkatingMall.com. Five percent of every purchase through My Skating Mall will be donated to the purchaser's figure skating club.
Ice Mom:
Why should figure skaters take ballet?
Annette Thomas:
There is no other single off-ice conditioning class that has as much to offer the figure skater as classical ballet lessons. Classical ballet lessons provide strength & flexibility training, body awareness, balance techniques, mental focus, discipline, musicality and aesthetics all wrapped into one lesson.
Ice Mom:
Is it worthwhile for recreational skaters to take ballet?
Annette Thomas:
It is always worth taking classical ballet no matter what level of commitment a skater has or what their ultimate goals may be as classical ballet enhances the quality of the experience of movement itself.
Ice Mom:
If I have a skater who is a Regional competitor, how many hours of ballet should she take each week?
Annette Thomas:
Normally Regional competitors take 2 to 3 ballet lessons per week (meaning technique lesson which are 1/ ½ hours long and not in conjunction with practicing dance recital pieces.)
Ice Mom:
If a parent is watching the family budget carefully, would you recommend that she spend her figure skating money on ice and coaching or cut back on those two and include ballet?
Annette Thomas:
It depends on the skater and the coach. If a skater has an aversion (or thinks they do!) to ballet obviously this will be a waste of money to try and force a skater into "doing ballet". Many coaches are skilled at much more than just teaching skating technique and I believe that a lot of skaters miss the complete picture of what their own coach has to offer them aesthetically. Having said that, taking a regular classical ballet lesson can only help to improve the value of all that the skater does on-ice.
Ice Mom:
How should figure skating parents choose a ballet instructor, or will any ballet instructor be a good fit for a figure skater?
Annette Thomas:
Choosing a ballet instructor is just like choosing a coach. As a parent you should try to observe a class with your skater, discuss the lesson with the instructor afterwards and then privately discuss with your skater what you and she/he felt about the lesson and the teacher. Very importantly there should be a true curriculum based on a syllabus and no practicing of recital pieces during the lesson time.
Please see my web page for further answers to this question:
http://www.balletforfigureskaters.com/book/exerpts/ch5.pdf
Ice Mom:
Is there a question I should have asked, but didn't?
Annette Thomas:
Yes: "Is all ballet created equal?" Note that I have used the phrase "Classical Ballet" throughout my answers. This is because all ballet is not created equal. Taking lessons at recreational studios which are geared toward recitals more often than not teach ballet as choreography not as a method of technique. Teachers who teach ballet by observation (meaning just as they were taught in class as opposed to having had lessons in pedagogy) will only have a minimum of positive effect. Lyrical ballet will not help the skater at all because there is very little if any refined technique to it and there is no emphasis on strength training. Classical ballet has a true methodology which takes into account the training of the entire body, head, eyes, hands, torso, etc. in incremental portions which ingrain movement and musicality into the muscle memory. It takes into account the importance of the lower back and core muscles as the "fulcrum" of the body which needs to be trained slowly and carefully for maximum potential in both strength and flexibility. Classical ballet technique forms the body from the inside out so that the technique is safe and the dancer/athlete can be secure and confident in their actual abilities.
Questions for Annette Thomas:
Readers are invited to write questions for Annette to answer in the Comments section of this post. Annette has agreed to reply to them there. Some readers have sent in questions in advance. Those questions appear here.
Reader: When a mid-level skater has limited funds, how should it be distributed between on-ice, off-ice, and dance?
Annette Thomas: Distribution is a very individual consideration which you and your primary coach would have the priority in deciding as you discuss your skater's particular needs and what is available in your area. Also the distribution should take into account the temperament and age of the individual skater. On-ice practice is obviously the main priority for a figure skater, but people categorize off-ice in many different ways; most often it boils down to "sports oriented" (strength training, plyometics etc.) and "artistry oriented" (ballet and other dance forms). If you have an excellent classical ballet school in your area and the teacher is willing to work carefully with the skaters' needs, I think this is the best off-ice training available in one package. If not, you may have to distribute your off-ice time and funds between something such as Pilates and a ballet or modern dance class at a local studio (just opt out of the recitals if at all possible, because that can get very expensive!)

Reader: Why is it that some ballet teachers dislike it when their students start skating? I see that a lot in my rink and often the teachers will ask the skater to stop skating or ballet. They are serious about ballet, but not to the extent of making it a career. What do you tell the ballet teacher?
Annette Thomas: Like most teachers and coaches, ballet instructors want students whose main interest is their "subject." Children today are often involved in so many activities that long-term focus and commitment are hard to find. Skaters usually take ballet lessons for their own agenda (to improve their skating), which can cause the ballet instructor to feel as though they are not in control of the learning process. Plus, skaters often have a very different sensibility when it comes to timing and movement in general, so it can be difficult for the average ballet instructor to work with skaters in the same class as non-skaters (this is why it is so important to have a ballet program at the rink). And finally, since both ballet and figure skating require tremendous amounts of commitment, energy and hard work, a ballet instructor may feel that they do not want to invest all of the mental and emotional energy required if they know that the student is more devoted to skating. It may sound selfish, but it is just human nature. I know coaches who feel the same way; when one of their skaters' decides she likes gymnastics and wants to take it more often…it can be frustrating to the coach as they now not only feel like "second fiddle" they also know that their skaters energies and time will be divided making it much harder for them to teach. It is a difficult situation on both sides as the teacher wants to teach in what they feel is the most productive manner possible and yet the student should never be felt to be rejected or "wrong" for choosing other things. I always tell my students "pick one or two things in your life and try to achieve excellence in them."

As to what to tell your ballet instructor, you might try to interest him/her into working more "one on one" with your skater (via choreography, working at the rink etc.) so that they feel as though they are more a part of the process.
Reader: My daughter is a young skater, just starting out, but has been taking ballet/dance since she was two. What should, if anything, we do differently now that she's skating? Should we be paying more attention to certain parts of dance? Will certain moves help more than others? Also, between ballet and gymnastics, which do you think helps with skating most?

Annette Thomas: If you, your daughter and your primary coach are satisfied with your daughter's progress, I'd say to just continue with what you are doing. Gymnastics can be extremely hard on the body and I never recommend it (to dancers or skaters). It loosens the lower back and can permanently damage joints. Classical ballet will help your daughter strengthen her body as well help her to progress more quickly in her skating endeavors. If you can find a classical ballet studio that also teaches Character Dance, this would really be ideal to include in her studies.
© 2010 by Annette T. Thomas all rights reserved
. Annette T. Thomas's answers are used with permission.
Want to take ballet or movement classes with Annette Thomas? She'll be teaching at the Pettit National Ice Center in Milwaukee this summer. (Artistry & Movement classes are for learning character dance/music appreciation and style.)
Her schedule:
Tuesdays:
9-10 am medium/high ballet JUNE/JULY only, 10:15-11:15 am medium/high movement June/July only, 9-10 am low ballet AUGUST only, 10:15-11:15 am medium/high ballet AUGUST only, 11:30-12:30 medium/high artistry and movement AUGUST only, 3-4 pm medium/high artistry and movement, 4:15-5:15 pm low artistry and movement

Wednesdays:
3-4 pm medium/high ballet, 4:15-5:15 low ballet

Thursdays:
9-10 am low artistry, 10:15-11:15 am medium/high ballet
Do you have a question for Annette Thomas? Take this opportunity to Ask the Expert! You'll find her replies in the comments.
Do you have a question for the Ice Moms? Have you been thinking of a post you'd really like to see? Are you an expert and would like to contribute to the Ask the Expert feature? That's great. I love e-mail, so please contact me at icemom.diane@gmail.com.