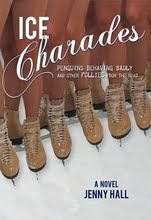 When I took Jenny Hall's debut novel,
Ice Charades
, up to the rink to read, my friends kept grabbing it off the table and scanning the back cover. "What's this all about?" they asked.
Well, it's about ice show skaters, I told them. It's fun and light and a bit naughty.
Now they all want to borrow it.
Hall is a former ice show skater, and her novel reads with the authenticity of someone who has lived the show skater life. You might recognize Hall from her popular show skating blog,
Ice Charades
.
The novel is about Sue, a 19-year old college student who is taking time off from her studies for a year abroad of her own making. Sue, or Milk Muffin, finds that life and competitive skating haven't prepped her for long, grueling practices, catty cast mates, and weekly weigh-ins. Everyone else in the novel is more worldly than Sue from Minnesota, which is just fine with me. The more Sue learns, the more entertaining the book is.
The plot unfolds with a linear timeline and chronicles Sue's year with a European ice show. The show includes penguins and live poodles, Elvis and Swan Lake. Not only is the show a little screwy, so are its skaters. I'm very fond of Judy, who is Sue's naughty guide to all things show skating.
I'll be honest: at first the novel didn't really rope me in. For me, I saw the book as an interesting and humorous account of a new show skater's daily life. It was good, but I wasn't
invested
in Sue. Sue skated and lived with snarky roommates, but I really didn't care about her until I saw a flaw. Sue went from one-dimensional to two-dimensional when the show's choreographer dressed her down in front of the whole cast. How dare Simone act so unprofessionally towards hard-working, honest Sue. From that moment, I was indignant and on Sue's side.
Sue is also very funny. As a reader, I experienced the craziness of the show skating world through her eyes and with the benefit of her funny comments. In the beginning of the book, Sue explains that Follies on Ice (F.O.I.) was about entertainment, not about having a show that made sense. That's how the producers justified having reindeer and penguins share the ice, when they don't even share a continent. Here's an example of Sue's wit:
Pascal was also one of the only skaters in the world, at the time, who could do a back flip on the ice and F.O.I. exploited it like a circus with a two-headed midget.
Two-headed midget. Pretty funny.
In the end, the book was less about one-liners and more about Sue's growth. Hall finishes the book like a good movie and I visualized the credits scrolling to classical music as I read the final page.
Bottom line:
I think readers will find Hall's witty voice amusing and Sue's show skating world fascinating. Once I reached the middle of
Ice Charades
, I had a very hard time putting it down. This isn't a book for kids or teens, though. Hall's book is about adults and deals with adult topics and contains adult language. However, if you're an adult, I recommend it. It's a fun read.
Want to order this book? You can find it at Amazon
. It might make a nice holiday gift for a coach on your list. Make the coach lend it to you when she's done with it, though. You'll like it, too.