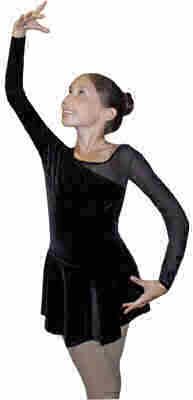 We were going to buy the skate dress on the left; however, it's $60. I sew and I thought that I could probably beat that $60 price.
The pattern. The pattern we found at our local JoAnn Fabrics is the Green Pepper pattern above. I'll list more pattern resources at the bottom of the page. The selection at the store was very disappointing. Ice Girl and I flipped through all the pattern catalogs, but the only patterns we could find were for little girls. So, moms with little kids: you're in luck. The Green Pepper pattern is stylish, but basic. I thought it would be perfect for a practice dress.
Green Pepper pattern #F813: *revision* see Green Pepper pattern sewing review for why I will never buy another Green Pepper pattern again.
Cost = $8.
Skill - medium sewing skill (Looks pretty easy to me, though. No buttons, no zippers.)
The fabric. Fabric choices at JoAnn Fabrics were pretty good. The swimsuit/dance wear stuff was pretty slinky and fish-like, but they had a fair selection of stretch velvets and plenty of crushed stretch velour. We found some black stretch velvet (dry-clean only) for $19/yard. We passed it up in favor of washable stretch velour (pictured at far right) for only $4.99/yard. I also popped for some more expensive stretch velvet for the skirt, $12.99/yard. The pattern calls for 1 1/2 yards of fabric total for the skate dress with sleeves. It doesn't break out yardage for a contrasting skirt. I decided to buy 1 1/2 yards of both fabrics and try to make some practice skirts out of the leftovers. The scrunchie yardage is included for all views.
Fabric costs:
1 1/2 yards of black crushed panne stretch velour at $4.99/yard = $7.49
1 1/2 yards of black panne with silver sparkles at $12.99/yard = $19.49
The notions. The notions for this project are minimal. The only thing I needed was 3/8-inch elastic. But, I don't feel comfortable sewing stretch fabric without a fresh ball-point needle, so I bought a pack of those, too. It's black fabric and I think I have thread at home for black, but I bought a spool anyway.
Notions costs:
2 yards of black 3/8-inch elastic at $.49/yard = $.98
Schmetz Ball point needles = $3.29
1 spool black thread = $2.59
Total cost: $41.84
I'm pretty sure I'll be able to get at least one practice skirt and two scrunchies out of the yardage, too. I think that's a pretty good deal.
More pattern resources:
Kwik*Sew patterns. They have several skating dress/leotard patterns and a couple of these patterns have blade soaker patterns. I couldn't find these at JoAnn Fabrics, so I'm going to have to mail-order them. *revision* I found these patterns at Hancock Fabrics.
Jailie Patterns. Many, many skating patterns. I think Ice Girl's new performance dress will come from here.
Speciaty Sportswear. O.K. Confession time. I've been all over this website and what I've seen is good, but I just don't understand what the system is.