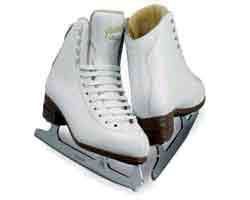 While Ice Girl was in the early Basic levels of Learn to Skate classes, I bought her skates from the local Play it Again Sports Shop. I had read somewhere that breaking in new skates is painful and we all know that kids' feet grow. So, all of Ice Kid's skates had been used and cost about $10, plus $4 for sharpening. Each time I bought a new pair, I'd bring in the old pair; the guy behind the counter gave me $4 for the old pair. Not a bad deal.

Ice Girl now has a private coach who told me that I.G. really needs better skates. I'd been avoiding it because they run about $150. I looked online, I read about skates in articles, but I still felt at sea.

We live near Madison, Wis. and it's a hockey town. We have many rinks, but the pro shops have hockey equipment. I took I.G. to the Pettit National Ice Arena last Saturday for their ginormous open skate (1 p.m. - 9:30 p.m.) and to visit their fabulous pro shop, Rainbo Sports.

I'm telling you: going to the shop was so worth it. Kevin, the guy who runs the Milwaukee Rainbo Sports shop, was very helpful. Let's face it: I'm pretty clueless about the whole skating thing. I didn't know that the skates don't run in traditional shoe sizes. Not only do they require special measurements, but also each skate company has its own sizing system.

Why a professional fitting is fabulous, part one: foot evaluation. Kevin had I.G. stand and he assessed her arches and how her feet bent slightly inward. He measured around the foot at the instep. He explained how the skate should fit on her toes and showed her where it shouldn't pinch.

I.G. tried on the Riedell Blue Ribbon skate, but I.G. has wide feet, so the fit was pretty tight. The Jackson Classique fit so much better. Kevin showed I.G. how to lace the skates, tighten the laces, and explained about breaking in skates.

Why professional fitting is fabulous, part two: heat setting. As a newbie Ice Mom, I had no idea that good figure skates can be heat set to a skater's feet. You need a convection oven, not a plain ol' kitchen oven, or a hairdryer and patience. Kevin had the convection oven, so he popped I.G.'s new skates in the oven, warmed them up for six minutes, then put them on I.G.'s feet. Ice Girl sat with her feet in the toasty boots and the boots molded to her feet. Heat setting decreases the pain and time involved in the breaking-in process. Kevin also encouraged Ice Kid to break in the skates at home with the blade guards on.

Oh! And socks! My goofy kid is sock challenged. I bet no one else has sock management problems, but my family does. We lose socks very efficiently when left to our own devices, but our wicked cat loves to swipe them and hide them under the couch, under beds, in a heap near the sunny window, on the stairs. What is up with that cat? Often I find that I.G. has on two different socks, but I make the discovery when she's shutting the van door in the school parking lot or when we're an hour from home and about to buy new skates. I stopped at Target to pick up some white cotton socks and made her put on two of the same ones. I bet the mismatched pair is under one of my van seats.

Here's what I've learned about socks: I was so proud that I.G. took off her shoes in the pro shop and she had clean, white, matching socks on both feet. Kevin wasn't impressed. Cotton socks are not the way to go. Seriously. The cotton absorbs foot sweat and keeps the water close to the foot, chilling the foot as the kid skates. The cotton also stretches and bunches in the boot, which makes the kid's foot uncomfortable and causes blisters. Trouser socks, or tight-fitting nylon socks, are the way to go.

Why professional fitting is fabulous, part three: tweaking. My daughter, bless her, thinks she's dying every time she has a paper cut. Imagine I.G. with stiff, new skates that rub her feet. After 45 minutes of ice time, she wanted her old skates back. I took her back into the shop and consulted Kevin. He told me that he can punch out the leather in some spots to accomodate her foot, but he'd rather try a blister pad first. He gave me a soft foam circle that I remember from my '80s roller skating days. He also had this nifty gel sleeve that wraps around a skater's heel and ankle. The sleeve protects the foot from rubbing against the leather. But it's $15. Yeah. Pricey. I dithered a little, but I ended up popping for the gel sleeve. I'd just spent $150 on skates. My reasoning was that the cheap option wouldn't be cheap if Ice Girl never put the skates on again because they hurt too much. The gel sleeve worked like a charm: she had her skates back on and a big smile.

Costs:
Jackson Classique skates: $145-ish
4 pairs of skating socks ($5/pair): $20
purple soakers: $13
Gel sleeve: $15
Olympic Video: $22

Total damage: $215

Ouch.
Useful Internet resources: