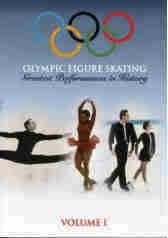 This 60-minute
Olympic Figure Skating, Volume 1
DVD contains Olympic performances from:
Brian Boitano
Dick Button
Katarina Witt
Dorothy Hamill
Ekaterina Gordeeva and Sergei Grinkov
Jane Torvill and Christopher Dean
Oksana Baiul (what's up with that hat?)
John Curry (OMG--what long, long legs!)
Barbara Scott
Midori Ito (great costume)
The performances, of course, are fabulous. What's not terrific is that this DVD has no menu and no way to skip from one performance to the next. Really, it's like having a video tape in your DVD player.
Some of the performances are just snippets: Debi Thomas appears briefly, but not long enough to compare her
Carmen
to Katerina Witt's
Carmen
. That left me pretty grumpy, especially since the announcer built up the two
Carmens
business. Nancy Kerrigan appears briefly.
Overall rating: 2 stars out of four.
If you're looking for a great DVD, this isn't it. However, if you're looking for a collection of Olympic performances, it's good. I know I'm a hypocrite, but I've already ordered volume 2 from Amazon. It's for the DVD library I'm starting. Really.