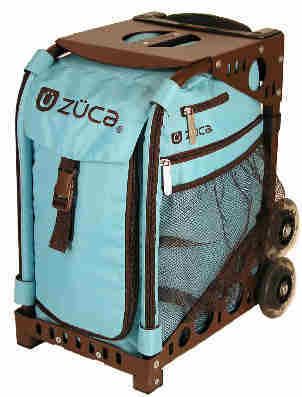 Ice Girl is the luckiest girl in Madison, Wis. Last weekend we made the 90-mile trip east to the Pettit National Ice Arena and visited Rainbo Sports, inside the Pettit. Ice Girl got new skates and, just as we were about to leave the pro shop, Grandma showed up. Bless her.
Grandma popped for this fabulous Zuca bag for Ice Girl. The
frame
cost $100,
the bag
$45. Not cheap. However, this puppy is nearly indestructible. It weighs less than nine pounds (empty), but a 300-pound person can sit on the brown top. As a seat, it's sturdy and pretty comfy.
The front opens up like a miniature locker with pockets in the locker door (one big one that's the shape of the door, two smaller ones). The top of the locker has a mesh pocket, which is ideal for keeping small bits of clothing--gloves maybe? Also inside the locker is a long lanyard with a hook. I can see this as a useful place to hang a bit of clothes or keep a key safe.
On each side of the bag are the mesh pocket that you see in the photo, a large zippered pocket, and a small zippered pocket. Zuca says that the small pocket is perfect for a cell phone.
The frame is sturdy aluminum with a telescoping handle for pulling. It has four wheels on the rear of the frame, which I thought was kind of weird. Here's how it makes sense: that extra set of wheels is for lugging the Zuca
upstairs
. Clever. The bottom wheels have flashing multi-colored lights. According to the Zuca FAQ page, these lights never need new batteries. Something about generating electricity as the bag rolls.
Overall rating: four out of four stars.
This bag is roomy and perfect for housing ice skates. It's lightweight, so Ice Girl can lift it in and out of the car herself. The wheels roll easily and the second set of wheels really helps to move the bag upstairs. I like that the bag is replaceable. I can picture the bag wearing out way before the frame does. The whimsical lights in the wheels make other kids' eyes glow green with envy. Very cool, very useful. Expensive, though.
Update.
I forgot to mention the cool flashing wheels. They do not need batteries, these smart things. Just roll the bag and the internal wizardry creates the electricity to power the flashing lights. How cool is that?