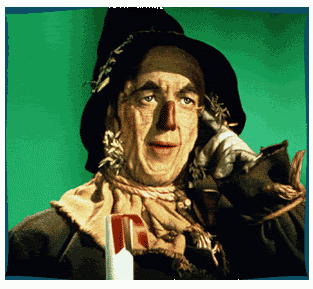 Some of you might remember my earlier blog post about how figure skating is really a small community and eventually everyone starts to know everyone else. That was the post about theme songs and how you should choose a good theme song for yourself, not the theme song to say,
Jaws
or
Psycho
.
You can find that post here.
You might have spotted the hubris in that post. I thought my theme song might be If I Had a Million Dollars from the Barenaked Ladies because I'm obsessed with figure skating's costs and I dream of a day when I can just thow money at the ice without a care. A big tree fort in the backyard, complete with a mini-fridge, would be cool, too.
Here's the hubris: my theme song is not one I chose, as I had recommended people do. No, no. My theme song is along the lines of Nowhere to Run by Arnold McCuller or If I only Had a Brain by that scarecrow in The Wizard of Oz.
Here I am all smart-mouthed, blogging about my experiences with real people. Now real people have found out who I am. That post about Psycho and Jaws isn't nearly as funny when someone I know who knows those two people says to me:
"I know who you are."
Me: deer-in-the-headlights look
Other person: "You're Ice Mom, aren't you."
Me: crap, crap, crap.
Hoo-boy. It's all fun until folks hold you accountable. Well, I'm a big girl and I stand by my advice: try hard to pick your own theme song and make it something you can dance to.
Otherwise, you can be like me and wear a mask everywhere you go. Actually, spy music is pretty cool. Maybe I could have some 007 theme song...