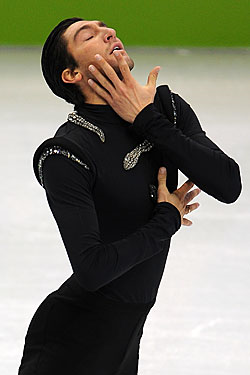 It's Winter Olympic season and Evan Lysacek just won the gold medal in mens figure skating. We watch his performance on the ice, but how did he keep it all together? How did he have the mental toughness to skate so flawlessly during the biggest moment of his life?
Lysacek told
New York Magazine:
"When I'm getting ready in my room, I drink the same thing, I light the same good-luck candle I have — it's a brand from England called Cire Trudon — I listen to the same playlist, with songs from Jay-Z to the Virgins or the Killers, happy music that will keep my emotions even and not get my heart wildly pumping. I'm engaging all my senses, telling my body, 'Okay, it's time to go to that place.' When I get to the rink, I go through pretty much the same warm-up off the ice every time, so my body is continuing to get into that super-focused mentality. About twenty minutes before I go on, I put my suit and my skates on — that's my alone time — and I talk to myself. Self-talk is very important to me…I try to conjure really difficult days, days when I was sick or jet-lagged and felt horrible, and then think, If I can get through that, I can get through anything."
Aromatherapy is popular among top-level skaters. Instead of an imported candle, though, figure skater Johnny Weir uses Lemon Pledge for his calming ritual.
"I was nervous last night. So I Pledged [as in Lemon Pledge] everything in my room," Weir told People Magazine. "Some people eat, some people drink – but I Pledge everything."
Skater Jeremy Abbott had a disappointing Olympics, but his off-ice mental preparation is positive self-talk. Abbott told
The Associated Press:
"Everyone has doubt in themselves, but I used to believe it," Abbott said. "That little nagging voice in the back of my head that told me I couldn't do it, I'd believe it. I'm learning I can quiet that voice and tell it to shut up."
As for Ice Girl, I have no idea how she prepares to skate at a figure skating competition. I tell her
I love her
, leave her with Ice Coach, and head for the stands. Believe me, my presence would only make her nerves worse.
What preparation tips from the champions can we pass on to our own figure skating sons and daughters?
Aromatherapy. I prefer the Lemon Pledge myself, especially the whole Pledging process.
Nervous energy. Worried about tomorrow? Clean your room, Ice Girl! That's what the champions do.
Happy music
Positive thoughts
Comforting rituals
I've always said that the difference between practice and competition isn't in the crowds, the pressure, or the drama. The difference is in the mind.
This should be fun! How do you prepare yourself or your figure skater for a competition?