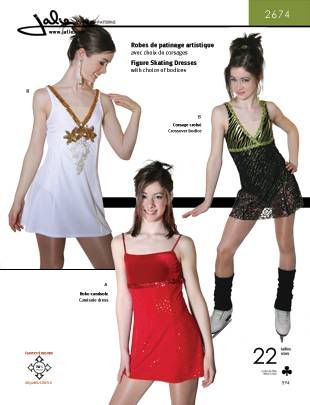 The purple painted dress I had made was Jalie pattern #2674, Empire Waist Figure Skating Dress, view B (the white one). I thought that the skirt with an empire waist would look pretty when Ice Girl was spinning.
Actually, it's not as pretty as
Kwik Sew #2796
, which flares prettily when a skater spins. This one is too narrow for that pretty flare. Ice Girl has Kwik Sew #2796, but she won't wear it for reasons that are a mystery to adults (like me and Ice Coach), but make perfect sense to a 13-year-old. For whatever reason, she won't wear it anymore. Will this fickleness end at some point?
So. I made Jalie #2674, view B for the spins program. I'm pretty happy with the results, but I learned a few things that would be useful to know if you're making it for the first time:
Painting it? Paint the panties, too. Otherwise, look away and giggle nervously when the skater spins and you can see what looks like tidy whities. Yeah. I did this. (Insert head smack here.)


Mistake on instructions. I think that Bodice – view B has a mistake when it tells sewers to pin the wrong side of front lining to right side of front pieces. That seriously can't be right. It should be "Pin right side of front lining to wrong side of front pieces." That's what I did anyway, and I'm pretty sure it's right.


Straps. Don't let your kid convince you that the straps have to be super tight. If you do, you'll get a pucker where the bodice halves meet. I covered up that pucker with some sequin trim, but still. It irritates me.


Keep track of the skirt pieces. There are seven panels to this six-gore skirt, so if you don't keep good track of them, you might end up sewing back sides together, instead of center backs. Yeah. I ripped out that seam.


Sequin trim. I really like the stretchy sequin trim that I put on the bodice and Ice Girl has gotten compliments on it. If I were to do it again, I'd pop for the sequin trim again. The trim's pretty easy to put on, especially if you do it after you've had the skater try on the dress and measure the straps. Just run that trim down the strap and zig-zag the embellished strap to the back bodice. I use a 90-gague needle for the sequin trim, not my puny stretch needles (70- 80-gague) and I usually break one needle when I'm applying the stretch trim with a wide zig zag on both sides of the trim. Better than hand sewing, though.
Bottom line:
I'd sew this dress again, but not for a spins program. Oh, and I'm going to let the Jalie folks know about the error in the instructions. Otherwise, it's a pretty dress, fits well, and goes together without too much drama. Well, not too much sewing drama, anyway.