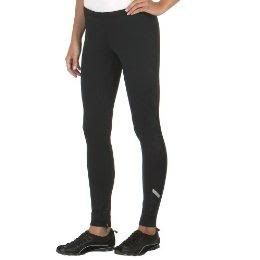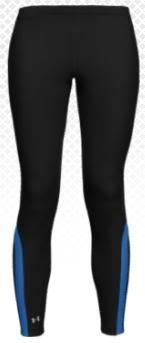 Ice Girl loves to wear stretchy, fitted lycra tights on the ice. You know, the kind of tights runners wear. She wears them like tight-fitting pants, not under a practice skirt or dress, but as pants.
If you've read this blog for any period of time, you know that I am cheap, cheap, cheap. I looked at the $60 price tag on the
Under Armour Cold Gear
Tornado Tights and had to sit down before I passed out.
I found Champion C9 pants
(top)
at Target for less than half the cost of the
Under Armour
(bottom)
– just $24.99 for the
Champion C9 Running Tights
. That's what Ice Girl has been wearing for over six months with no complaints.
However, two weeks ago, Ice Grandma, that softee, bought Ice Girl a pair of the Under Armour pants, which gives me a great opportunity to compare the two.
Cost.
Champion C9 wins hands down. Ice Girl and I can buy two of these pairs of tights from Target and have money left over for a chai tea latte, hot cocoa, and one ginormous cookie to split from the in-store Starbucks. (Champion C9 = $24.99, Under Armour = $59.99; venti chai = $3.99, venti hot cocoa = $3.99, one cookie = $1.95)
Styling.
I give a slight edge to Under Armour on styling because of their tights' simplicity. Under Armour and C9 both have a color stripe on the side. The black C9 tights have a small bit of silver, but the black C9 tights with pink have a huge side stripe of pink. Under Armour is just a basic tight with nothing but a stripe; C9 has a bottom zipper from bottom hem to mid-thigh and a pocket in the back at the waistband.
Some of the zipper pulls have broken off Ice Girl's C9 tights, but it's not very annoying to Ice Girl; she can still zip the bottoms with her nimble little fingers. She likes the back pocket in the C9 pants so she can put a couple of bucks in there for the pop machine. An online reviewer said that the zipper in the C9 tights rubbed against her leg and caused her leg to bleed, but Ice Girl has never complained about the zipper at all.
Fit.
No clear winner here. Ice Girl likes the fit equally on both pairs.
Warmth.
No clear winner. Champion C9 ad copy claims that its fabric speeds evaporation and keeps an athlete warm. Under Armour claims dry warmth, too. Ice Girl hasn't noticed that one is warmer than the other. She's worn them both in the coldest rink she skates in and they are both good.
Durability.
Slight edge to Under Armour. Some of the zipper pulls on the Champion C9 tights have broken off, but the lycra remains stretchy and resilient even after lots of careless washing and over-drying. Under Armour doesn't have the zipper, so it has no pulls to lose, which is why I think it has a slight durability edge.
The bottom line. I'm cheap and Under Armour's pricey. I also have a thing for venti chai lattes, so for my $60, I'll take two pair of the Champion C9 tights and a venti chai latte to go.