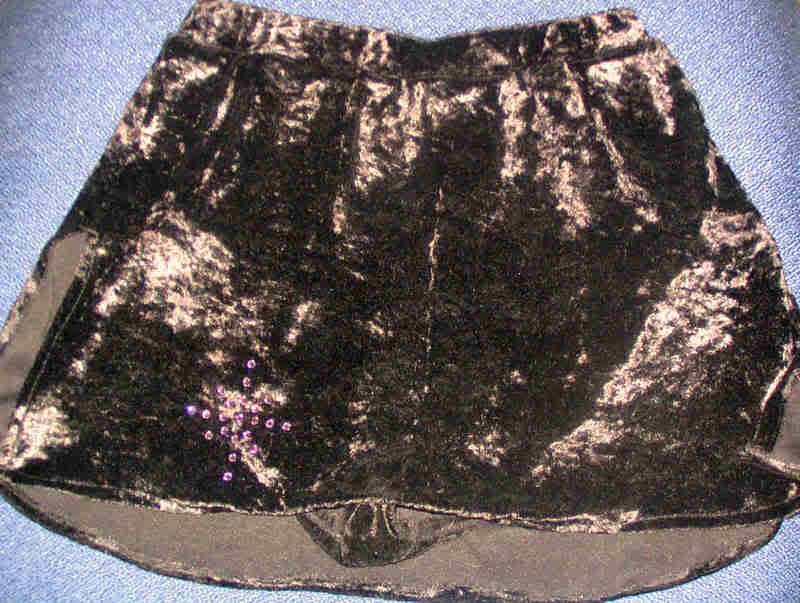 After the disaster that was the Green Pepper pattern, I found the Kwik*Sew patterns at my local Hancock fabrics. They're not cheap - $8 a pop. The finished skirt is on the left--it's hard to show the black panne, but it looks pretty good when Ice Girl's wearing it.
I started with pattern 3051, which has practice skirts and a dress. I made practice skirt C, with a straight hem and leotard bottom. I used the dreaded black stretch panne, and yes, it was a pain in the behind. But I'm not reviewing fabrics here. You can see my fabric review earlier in this blog.
The Kwik*Sew pattern uses real paper, not thin tissue paper, for its pattern pieces. All sizes, from XS to XL are in the envelope. Sizes run true to the measurements. Ice Girl measured as a small and the small size in the envelope fit her.
The cutting layout was good, but kind of a pain because the selvages had to meet in the middle. I don't think that's Kwik*Sew's fault, though. Kwik*Sew is trying to save us money on fabric with this layout.
The directions were very good: easy to follow and intuitive. Of course, the panne is a pain in the butt to work with, but when the Kwik*Sew directions tell you how to insert the elastic for the legs and the waistband, the directions work.
If you sew this pattern, anticipate problems when sewing the waistband to the rest of the skirt. I really had to stretch the bugger to get it to fit and then I had to do some seam ripping and swearing.
I used some iron-on sequins on the front panel of the skirt. After all, there's no tag and Ice Girl would be very likely to wear it backwards as well as forwards.
The pattern comes with a piece for cutting out blade soakers, too. I haven't tried it, but I bought a couple of terry towels that will be perfect for making the soakers. They're not stuffed like the $13 ones you find in the pro shop, but my hand towels cost only $3 each and I think I can make two out of each towel.
Overall rating: 3 1/2 out of 4 stars. I really like the pattern and it worked as expected. I like the sturdy pieces because, let's face it, I'm making more of these little skirts. However, the waistband is a pain in the butt. I don't know what the pattern people can do about that, but ripping seams makes Ice Mom cranky. I took off 1/2 star for my crankiness. Probably unfair, but, hey: I'm still buying their patterns, aren't I?