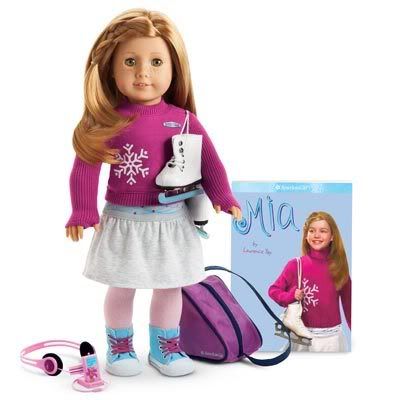 I was reading other figure skating blogs and I found out from
Required Elements
that we're all doomed. Yep,
American Girl dolls from the Pleasant Company
(headquartered 10 minutes from my house and--I can exclusively reveal--located two, maybe three blocks from an ice rink) has added Mia to its line-up.
Mia is available only in 2008, so you might as well budget. Mia and her book will set you or the grandparents back $90. To get her
starter set
of clothes is gonna cost you another $168. Yep.
Starter Set.
If your daughter wants to dress like Mia (thank God Ice Girl doesn't fit in those American Girl clothes anymore), that's another $84. Did I mention look-alike p.j.'s? Yep. Mia's pajamas are $22, but your daughter's p.j.'s are $56.
Ice Girl is 12. She hasn't received an American Girl doll for two years. She likes them, she's a girl. When I showed her Mia on the American Girl site, Ice Girl said that Mia looks like her (Ice Girl). Darn it, she's right. Ice Girl's hair is a bit shorter and Ice Girl is a bit taller, but they could be sisters.
I might as well accept my fate willingly: Mia will be coming to my home for the holidays, I'm sure.
Good thing I won't have to pay for Mia's ice time and coaching, too! That Mia kid is involved in figure skating
and
hockey. I can barely afford Mia's wardrobe, let alone her extra curriculars.
Maybe Ice Girl should make matching "Will Babysit for Ice Time" t-shirts for Mia, too. Whaddya think?