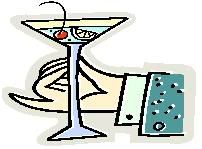 You can skip sending the sequined and beaded figure skating dress to the dry cleaners or hand washing it: spritz it with – get this –
vodka
instead.
Yep. Vodka has other uses besides martinis. Who knew?
Guy Rehorst, founder of the Great Lakes Distellery, the makers of the award-winning Rehorst vodka, confirmed that vodka has the makings of not only a good drink, but a good cleaning agent, too.
"[Vodka's] basically 40% ethanol and 60% water, so it will have some solvent qualities to it," Rehorst wrote in an e-mail. "If you're going to try it on an outfit, I'd test it first to make sure it doesn't do any damage; alcohol could weaken some man-made materials. Of course there are probably other, better products for this and I'd rather drink vodka than pour it on my clothes."
I learned about this little trick on Tuesday at the rink from a gal who volunteered one Nutcracker season with the Madison Ballet (thanks, K.R.). She told me that the ballet company put vodka in spray bottles and asked volunteers to spritz costumes, especially around the necklines, armpits, and nether regions.
Gretchen Bourg, Education and Outreach Coordinator for the Madison Ballet, confirmed this practice.
"We most certainly do use vodka to keep our costumes fresh between cleanings!" Bourg wrote in an e-mail. "Many of our costumes are very fragile—our company's Cinderella costumes are probably 25 years old—and we try to minimize the exposure to harsh chemicals for such precious works of art. In fact, the practice of using vodka to freshen both costumes and wigs has been around for hundreds of years."
I can't confirm how long people have been cleaning with vodka, but I can tell you that the alcohol in the vodka would kill off odor-causing bacteria very well. The alcohol evaporates as it dries and the garment is fresh and not boozy at all.
Bottom line:
Am I going to use this trick? You bet! I have $50 or more in crystals on some of those dresses and I'm not eager to weaken stitching or fabric with excess cleaning. I think I'll buy a cheap bottle of vodka for the cleaning and use Rehorst vodka for mixing. However, I will not mix the vodka with orange juice until I'm finished spritzing. You have to spritz responsibly and all that.
Thank you very much to Guy Rehorst of Great Lakes Distillery, Gretchen Bourg of the Madison Ballet, and K.R. for their help with this post.