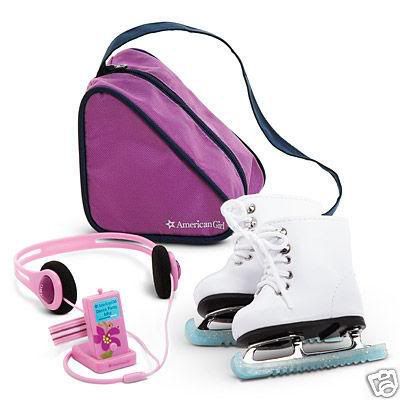 American Girl has it in for skating families this year – the limited edition doll of the year is
Mia the figure skater
. I
posted about Mia about six months ago
and you'd think I'd have heeded my own warning.
At nearly 13, I thought Ice Girl had grown out of the American Girl doll phase. She has a bunch of them in various boxes scattered from the basement up to her room. She doesn't play with them anymore, so I thought Mia, the American Girl's limited edition figure skater, was no threat.
"Ohmygod, Mom, I have to have
Mia and all of her accessories
."
"You're kidding."
"I need, need, need that doll, Mom, and her cool room and her overpriced posters."
"But you're almost 13. You never play with your dolls anymore."
"Mom. Mom. Mo-ooom. I love my dolls. What are you talking about?"
So. Ice Grandma popped the $100 or so for the doll, who doesn't come with skates. On Friday I tried buying the accessory package with skates, a skate bag, and some other overpriced trinkets. Sold out.
Plain ol' American Girl skates
? Sold out.
E-Bay? Yeah, they have 'em, but they're selling for – get this - $75. On the American Girl site, the accessories were $28. Mind you, these $75 fake skates are for a pretend skater.
Last Friday, Ice Girl skated at the rink near the American Girl headquarters. As I drove from the rink out onto Pleasant View Road (named after Pleasant Rowland and her Pleasant Company), I had an urge to storm the castle and take the skates right from the stock room.
I didn't though. I made a rude gesture towards the building instead. I'm sure the workers felt my negative vibes.
Parenting Lesson 1:
Buy early.
Parenting Lesson 2:
Hide all American Girl catalogs before Ice Girl sees them.
Parenting Lesson 3:
Purchase a siege engine for the next time I drive by the Pleasant Company. The question is: catapult or trebuchet? I should buy one early, before they're out of stock.