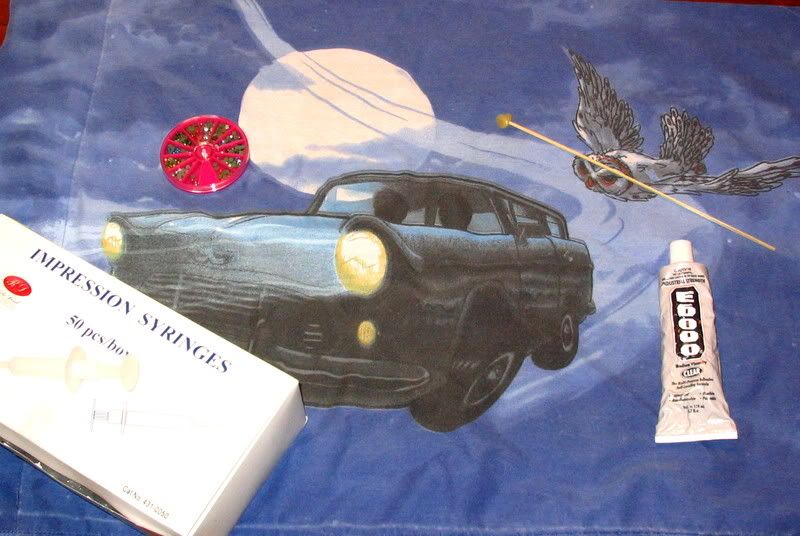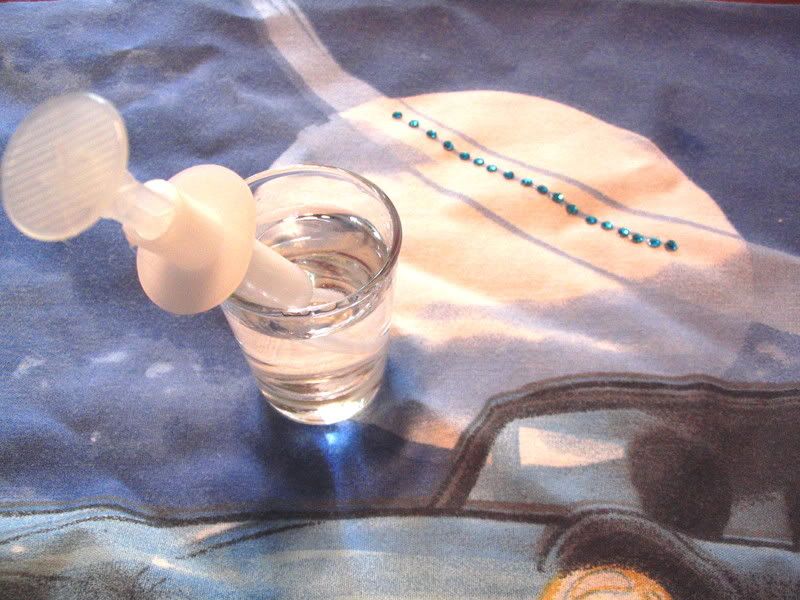 Becky from
Sammy Skate Wear
suggested on one of my posts that I try E6000 glue to affix crystals to figure skating dresses.
It's something I've wanted to do because my beloved hotfix crystals don't come in the very, very large sizes.
As Becky suggested, I found some syringes to squirt the glue. These are a must because the glue comes out of the tube in one big burp. I bought the entire box of 50 disposable, needleless, dental impression syringes online for $9.99.
I also bought some tacky wax that I found at a modeling store. It's cheap; a whole hockey puck of it set me back $5 and I can't imagine going through very much of it. I wrapped it around the end of a wooden skewer (that's the magic wand thing you see in the photo).
For my experiment I used an old Harry Potter and the Chamber of Secrets pillowcase. I figured Harry and Ron wouldn't mind some sparkle and glamour.
The experiment went well. I laid out about 10 beads of glue initially and picked up the beads using the tacky wax. The bead released when it hit the glue. The second try with the glue had the glue freezing up a bit and leaving strings. The strings didn't stick to the fabric, so when the beads dried, I brushed them off using a clothes brush. To prevent the glue drying up in the syringe, I dipped the whole syringe in a shot glass full of water. E6000 is magical stuff - it can dry underwater, too. It just does it slowly. I decided to force out a bead on some paper before returning to my beading line.
These beads take about 10 - 20 minutes to fully dry, during which time I could reposition them slightly to make them form a better line. That's something you can't do with hotfix.
I also found that putting the glue on the fabric is a bit like making a soft-serve cone: squeeze a little glue onto the fabric and push down with the syringe instead of lifting up right away. You'll get the same curl-top that you do when you make a soft-serve cone. (I knew that stint in a frozen yogurt shop would pay off some day.)
Bottom line: After the test, I'm willing to risk it on the figure skating dress I just made. Initial costs are kind of high: E6000 glue = $6 at my local, pricey hardware store. Wax = $5. Syringes (50) = $9 plus $4 shipping. Beads = always pricey. If I use the E6000 often, the price will go down, of course, because that tube o' glue will last years and so will the wax. I have 49 syringes, so I'm set for a while, too. It's those beads that kill me. I just bought 3 gross for $66.