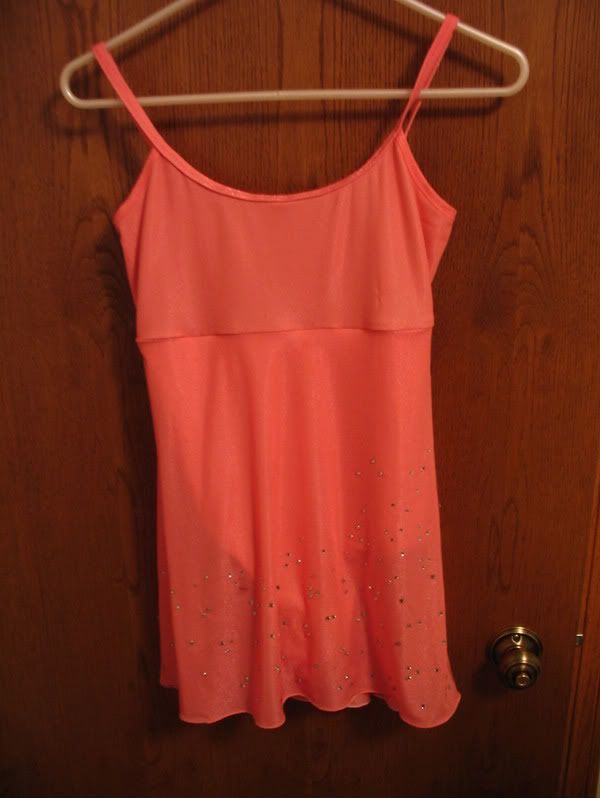 I'm finishing up Ice Girl's latest competition dress. It's KwikSew's 2796 and it was very, very easy to sew.
Ice Girl's measurements are very close to size small and I'd made KwikSew size smalls this spring with good luck. This dress, though, is pretty tight on her (the ones from this spring are still fine). Next time I'll make the medium.
I bought the salmon-colored two-way stretch fabric with an iridescent sheen on clearance, but it wasn't really a bargain. The fabric is very light and nearly see-through, so I had to line the whole thing with swimsuit lining fabric. It wasn't hard, but it was a pain.
I really liked how the straps and the binding went on the bodice. It was sensible, easy, and it looks good. I used a rolled hem on my serger for the bottom hem and it turned out better than I thought it would.
The real bargain was the beads that Ice Girl and I are putting on the dress. They're not Swarovski, they're
cheap ones from JoAnn fabrics
. JoAnn sells them in assorted packs of 300 each: 3, 4, and 5 mm clear crystals. Normally, JoAnn charges about $13 for a package, but I was able to find a bunch of 50% off coupons, so that dress is decked out in crystals.
Sewing Review: I'd buy the KwikSew pattern #2796 again, even though it's a bit small. The binding around the bodice would look good in a contrast fabric; in fact, Ice Girl and I think that the next dress will have a white bodice, a royal blue skirt and leotard panties, and royal blue binding for the armholes, neckline, and straps.

I'd also buy the
cheap crystals
again. When I really let the glue bubble on the
hot fix tool
, those suckers are on there for good.
I'm going to be careful about clearance fabric in the future. Lining the whole outfit is good, but I spent just as much on the fabric in the end and more time on the outfit than I should have done.