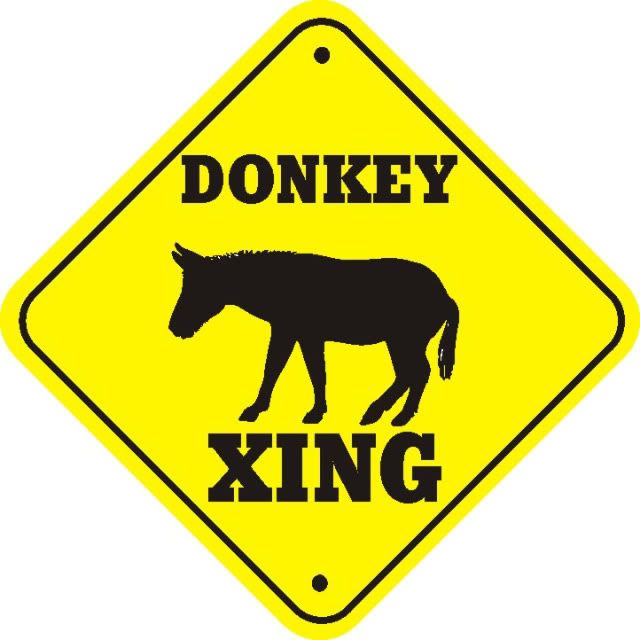 Former world- and national-level figure skater Jennifer Kirk recently blogged about the
Overzealous Skating Parent
. It pretty much reads like a manual of abuse: floggings with hairbrushes, screaming at the skater in public places, silent treatment, ridiculous schedules, sideline coaching, budging other skaters and parents out of the way, and forcing skaters to train despite injuries.
Deep down, maybe way, way deep down, we parents all want what's best for our kids. So how can this simple desire go so horribly wrong?
The donkey metaphor.
Let's say I have a donkey, a cart, and a carrot. I want the donkey to pull the cart down the road. Where should I put the carrot?
If I position the carrot far from the donkey, the donkey thinks the carrot is not a realistic goal and munches on weeds in the road. The cart doesn't move. If I position the carrot very close to the donkey, the donkey eats the carrot and the cart doesn't move. If I position the carrot where the donkey can see it, smell it, and where the donkey gets a taste of it once in a while, that cart moves down the road pretty fast. Using a stick instead of a carrot makes the cart tip over. Of course, you should not unhook your donkey and pull the cart instead. That's pretty pointless.
In other words, help your figure skater set up small, achievable goals. Don't punish, but encourage your skater with praise and...carrots. Or chocolate. You get the idea.
Other suggestions for keeping your sanity will parenting a figure skater:
The kid has to want it more than the parent.

This intrinsic motivation, by definition, has to come from the kid. Maybe that desire was there in the beginning, but, as a parent, how do you keep it kindled? Be your figure skater's biggest fan. Notice the little things that she does well and let her know about it. Be the positive voice for your child, a voice she can replay in her head when she feels low. Help her want to continue skating by encouraging her.

The parent needs a vision.

Get a piece of paper and a pen At the top of a piece of paper, write:

my best parenting year ever

. Write today's date, but put next year's year. O.K. What happened to make this the best parenting year ever? What did you do to make it happen? Realize this is about

parenting,

not

skating

. Your skater can make one for herself that's titled

my best figure skating year ever

. She is allowed to write about double loops and pancake spins. Your paper, though, is all about how you were a fabulous parent. When your skater cried, you...what? When your skater triumphed, you...what? When your skater was injured, you...what? When your skater had trouble with her lutz, you...what? When you had a coaching problem, you...what? Visit this vision once a week. Don't lose sight of your vision - when you do, bad parenting happens.


Focus on the positive.

This is a great activity for parents, figure skaters, and anyone else who needs help staying away from negative thoughts. Keep a list every day of five positive things that happened. Dedicate a page in the skater's binder or a small memo pad in your purse for this activity. Date it. Sometimes your list might have dorky stuff like -

made it to the rink without any accidents

, or

able to

write on my list

. That's fine. Just have five things every day. You'll notice that you're more able to focus on the positive when you have to write them on a list. You can look back at your list and figure out if there's a pattern to your bad days or bad weeks or if maybe it's just a random thing.

Mistakes happen.

One of the most profound things I've read lately is that people should strive for excellence, not perfection. Your skater will mess up. So will you. Shrug it off. Say, "That's cool" and move on. Don't pick at the faults, don't magnify them with over analysis and nagging. That's cool. Move on. Focus on the positive. Learn from your mistakes. Treat your skater with dignity and respect - like you want to be treated.


Encourage a life off the ice.

Your skater is talented at more than one thing. Ice Girl loves to sing. She's in chorus at school and she loves to write original songs and sing them in her bedroom when she thinks no one is listening. She and her school friends love to ride bikes in the summer and they hang out at the park down the street and talk. Of course, she has this texting thing that she adores. This is all good. On-ice life will end someday and she needs to know that when it does, she still has value. You need a life off the ice, too. Make sure you have more to talk about at work than your figure skater's double flip.

I'm not a perfect parent. I blow a gasket when Ice Girl spends more time on Facebook than with her textbooks. I'm not fabulous about encouraging a life off the ice when we have so little time at home as it is.
But, I'm working on it. That's positive #1 to go on my list. I recognize that this is Ice Girl's journey and I'm just the driver. That's positive #2 to go on my list. She's having a sleepover tonight. That's positive #3...
Please share your parenting-with-sanity tips.

We know what rotten figure skating parents look like - and so do movie producers. Let's write a manual of what fabulous figure skating parents look like. Please add your methods in the comments.