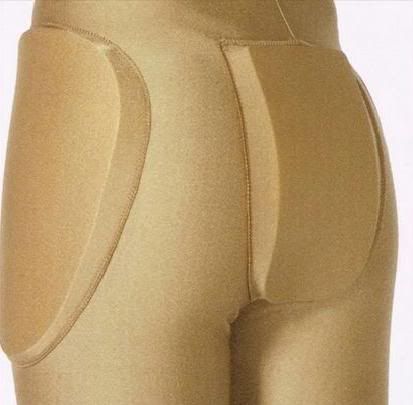 Honestly.
I have no idea how to get Ice Girl to wear her stinkin' butt pads. I have two sets of them: the kind in the panties (see photo) and the waxel pads that skaters shove in their tights.
I'd love to tell you that they work wonderfully and Ice Girl wears them all the time, but I can't.
The panties with pads set me back $80 (I think I got ripped off). The individual waxel pads cost me $30 for two. All the pads are in our basement on a shelf. They don't even ride around in the van with us.
Ice Girl complains that falls hurt. I don't doubt it. However, when I remind her that she has
pads
, her bottom lip starts to quiver and her eyes get round. She tells me that she just can't figure out how to wear them without them showing.
I tell her that the point isn't that people will think she has a big butt. The point is to prevent that big bruise on her hip.
Last week at a test session, I called her attention to a senior-level skater who was shoving butt pads in her tights rink side.
"See?" I said. "Senior Skater wears them."
"Mom. Mom. Moooo-oooom," Ice Girl said. "I don't want to talk about that right now. I'm about to test."
Fine. But Ice Girl didn't want to talk about it on the ride home. She didn't want to talk about it this morning, either.
Update:
From reader dazzleamore: did find those thinner GEL Ultra crash pads (about $35 -$40 each) is easier to convince my girls to wear them. Those pads are thinner so skaters don't feel self conscious (about the size of their butt) and supposedly, it supposed to protect them from the fall. Between, crash-pad-pants, waxel pads, and gel pads, my skaters used the get pads most... You can find these gel pads on many figure skating store websites that sells dresses or supplies.
So, folks, I'm looking for help here.
Please comment and share what tricks, incentives, etc. you've used to get your kid to put in those stupid pads. Short of making them chocolate-scented and having Ice Girl wear M.C. Hammer pants, I'm stumped.