When Ice Girl competed at Skate Milwaukee in July, I was really surprised at how many girls at limited beginner level were hauling their feet above their heads. They weren't completing a Biellmann spin yet, but I was impressed.
Ice Girl is a gymnastics dropout. She wasn't fabulous, but she wasn't horrible, either. However, between gymnastics and figure skating, Ice Girl hadn't done much stretching at all.
She's been working on it, though, so I bought her this Maxiflex. We've hung it over our front door and Ice Girl uses it while watching Nickelodeon or Disney Channel and/or talking on the phone.
The princi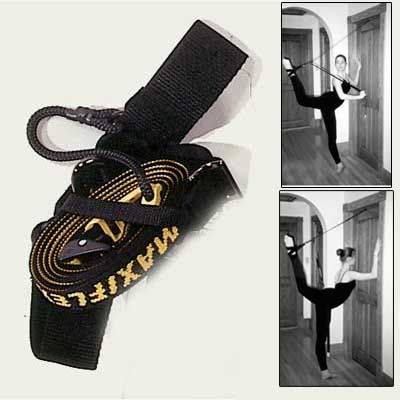 ple is this: hang the end with the knob on the outside of the door and let the cords trail to the inside. The cord forks. One fork holds the skater's foot in a harness, the other helps a skater yank her foot higher and higher.
The Maxiflex should come with a brochure when you buy it. In fact a bit of the brochure is part of the Maxiflex photo that I posted. Heavy on photos and light on text, you can get the general idea of what the stretching tool does in the brochure.
Beware!
In search of a bargain, the first Maxiflex I bought was off of eBay and it was cheap - $20. No brochure, though, so I had a tangle of cords and no clue what to do with them.
The Maxiflex will set you back $25-$35 bucks online, not including shipping. It's lightweight, though, so shipping shouldn't be too bad.
Ice Girl hasn't achieved the Biellmann yet, but she's doing it incrementally, which is good. I can see a kid forcing her leg way up too soon and not working up to the level of flexibility she needs. To make sure Ice Girl didn't hurt herself while super-stretching, I brought the Maxiflex to the rink one night. Ice Coach gave Ice Girl advice that I, Ice Mom, couldn't give (well, couldn't give and be believed.)
Rating: 3.5/4 stars.
I think the Maxiflex itself is a good product, but the brochure is not fabulous. The tangle of cords can be intimidating at first, but the results from working with the product are good. If you don't have one and your figure skater wants that Biellmann, I'd pop the $30-ish for it.