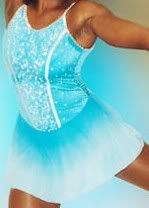 Isn't this dress gorgeous? Susan at
Lifeskate
blogged about this dress in a post called
Serena Williams in an original Carrie Jones figure skating dress.
I didn't know who
Carrie Jones
was before I read Susan's excellent post and interview. I'm sure that folks who have been around figure skating much longer than I have know
Carrie's work and Web site
.
If you're into sewing, or your avoiding your next project, read Susan's post about how Carrie created the figure skating dress (left) that Serena wore in a photo shoot.
Carrie and her assistant took just seven hours to sew it, bead it, and ship it.
Seven hours! Geez. No procrastination there.
I am inspired. Right now I'm beading a dress for Ice Girl that is pretty much the same dark turquoise in Serena's dress. The dress took me two days to sew; the beading is taking
forever
.
Seven hours. I'm just so impressed.
Did I mention how the dress is gorgeous? Holy buckets. I'm in awe.